St. Antoine resident, welcome to your little heaven
Walk into a secure private residential commune, receive a warm welcome at the reception, have the conciergerie team take care of your belongings or any other request you may have… Imagine being received as such before stepping into your apartment, penthouse or villa. The project will also include a Wellness area where residents can enjoy massages, beauty treatments, and a variety of other spa services. St. Antoine – Private Residence will elevate your lifestyle with these carefully crafted luxuries. Feel at home, pampered and secure amidst the exceptional scenery of this pristine region of the north-east of Mauritius.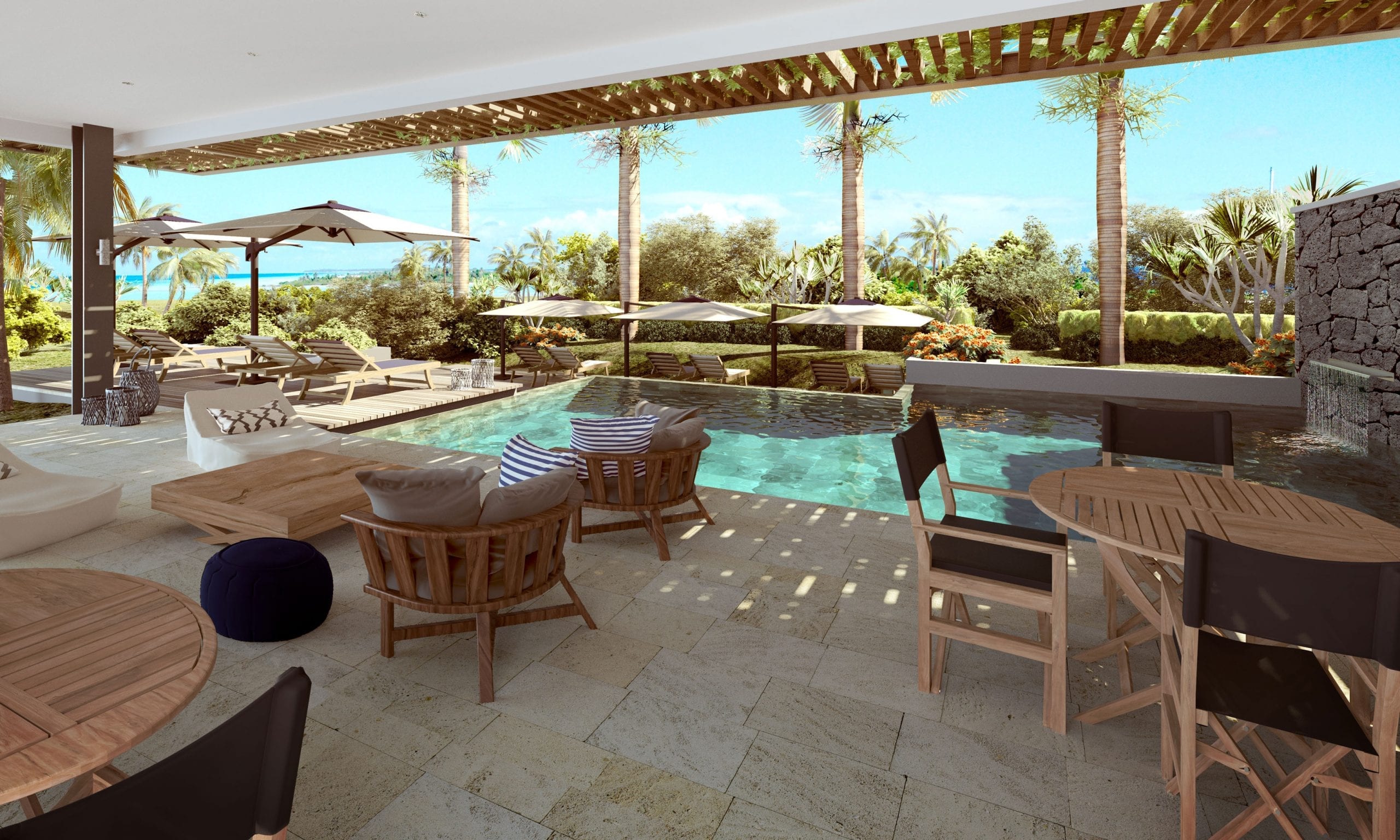 Our Clubhouse area is the perfect spot to fully unwind, be it from a long day at work, or from that long flight you just got off. The Clubhouse, an ideal place for socialising, will have a bar where you can enjoy
a refreshing cocktail and a chat with friends, family or neighbours. The Clubhouse restaurant will also be a good place to indulge in a romantic dinner with your partner, or to wine & dine with friends and business associates. This area will have a sizeable communal pool, which residents can use for leisurely swims or for engaging workouts – swimming is after all one of the most lauded forms of cardiovascular exercise. There will also be a Children's Pool, where the little ones can enjoy a safe dip or some good-natured poolside fun with their buddies. And of course, no pool area would be complete without its deck. This space will delight those who want to have some down time in the sun with a cocktail while basking in soft sea breezes. The pool deck will have tanning chairs, in order to help you maintain your picture-perfect golden tan. Daily life in a resort setting is a dream that can become reality at St. Antoine – Private Residence.
Boat owners, we've got you covered!
A boatyard with its ancillary services are also part of the St. Antoine – Private Residence experience. Fire up the boat engine and head for the open sea for a big catch, or gently cruise around and relax in the lagoon of St. Antoine… these possibilities are fully within the grasp of our residents. The project's boat parking space will be designed to safely accommodate your vessel.
The playground of your dreams
Our principal aim is to provide residents with a space that enables them to develop and enact their personal Art of Living. Add all these Resort-style services to a backdrop of architectural modernity and authentic landscape, and you get a truly unique residential community in an exclusive region of Mauritius: your very own playground. Evidently, all the services are available to you whether you wish to use your property at St. Antoine – Private Residence as a primary or secondary home.