The origin of a name for an island otherwise precious today
Ambergris results from the sperm whale's digestion of squid ink. Since time immemorial it has been a precious ingredient used in perfumes. The name Île d'Ambre (Amber Island) is held to originate from the presence of ambergris on its beach when the first visitors landed there. Today, the island is precious for other reasons.
The witness of a historical event that acquired great fame
Archives dating from the French occupation of Mauritius indicate that the island became inhabited after the wreck of the Saint-Géran on its reefs, which event became famous due to the success of Paul & Virginie novel. The latest traces of human habitation date back to some hundred years, and some remains of the houses of the old days can still be seen in a clearing.
A decreed nature reserve that is closely protected
From the time Île d'Ambre became unoccupied, it has been placed under the aegis of the Forestry Department as a decreed nature reserve. A jetty facilitates access to the island. The Forestry Department staff re-establishes flora species that used to make up its original endemic and indigenous flora, as well as through a stringent control of the proliferation of invasive exotic species. The island also owes to its dedicated guardians the maintenance of the paths winding through the island. Allowing researchers to explore the island, they also enable visitors to take a closer look at the Blue Latan Palm endemic to Mauritius, the Tecoma tree, the Araucaria pine and other endemic plants of Mauritius and the Mascarene islands, as well as geckos and butterflies.
Away from the bustle of the world, a precious marine ecosystem
The mangrove surrounding the island acts as its protection belt ; natural shaded canals wind through, which allows you to admire it closely. The salinity level of its waters are higher as it lies in the shallow and calm lagoon bordering St Antoine coastline. As nature's magic works wonders, the roots of the red mangrove – which is the dominating species around Ile d'Ambre, are highly effective at filtering salt to remain impermeable to it, thereby keeping the island's mangrove fringe dense and luxuriant.
The heart of the mangrove is a haven of tranquillity bathing in the ambience of an idyllic sanctuary away from the bustle of the world. It hosts birds, shelters crabs and molluscs; acts as a nursery and is a nanny to fishes, providing them with food and protection. The mangrove's roots also play an important role in preventing the erosion of the island and the seabed surrounding it during torrential rains.
Make a note not to forget your snorkelling gear so that you can enjoy a close view of the flourishing marine life that the mangrove sustains and keeps thriving. Maybe will you catch sight of some young and mischievous puffer fishes who will take you for a ride, playing hide and seek…
Invest in a property at St Antoine – Private Residence and you're guaranteed one of the most unique real estate opportunities in Mauritius. Located off the picturesque north-east coast of the island, with easy access to the conveniences of nearby Grand Baie, St Antoine also features a range of resort-style facilities and services of the highest specification. And there's more… these properties also offer an excellent enhanced investment opportunity. You could acquire your very own piece of this tropical paradise and have the option of realising further return on your investment.
Rental Management Programme
To oversee and facilitate the rental management programme at St Antoine – Private Residence, we have engaged the services of Luxury Ocean Vacation Ltd (LOV.), a leading Mauritian Destination Management Company and Property Services Provider. With over 30 years' combined expertise in the tourism and hospitality sector, the team from LOV. provides comprehensive property management of high value investment beach properties. The service provision incorporates 5 Star concierge services, maintenance and house-keeping operations.
Don't delay; get in touch with our sales team today for further details of this exceptional opportunity. Own a property at St Antoine – Private Residence and benefit from your investment working for you, delivering even more value!
The North of Mauritius has undergone extensive development over the last 2 decades, becoming one of the most vibrant, exciting parts of the island. That being said, the North has also retained its tropical allure, making it popular and favoured by expatriates, tourists, and Mauritians alike.
Over and above its authentic tropical setting, the North boasts a range of modern infrastructure from world-class medical facilities, and schools providing internationally recognised qualifications, to a number of shopping malls that include cinemas, high-end clothing outlets, utility shops, restaurants, fitness and wellness centres, and hypermarkets. The business community is also well provided for with several business parks, housing offices of major insurance and telecommunications companies, and financial institutions, providing a convenient alternative to a journey to Port Louis for business purposes.
Much of this modern infrastructure is to be found in Grand Baie, the seaside town we explored in a previous blog. Grand Baie is also known for its bustling nightlife, with clubs such as Insomnia, OMG, and Le Bar & Vous, to name but a few, and you're spoilt for choice when it comes to places to eat. Many of the restaurants are situated with stunning views over the bay, and a diverse range of cuisine is on offer, from traditional Mauritian favourites to modern European delicacies. La Capitaine (one of the island's oldest restaurants), The Beach House (where you can feast while literally wriggling your toes in the sand!), Chez Tante Athalie (a well-hidden gem in a unique, quirky setting serving a delicious range of typical Creole dishes), and Eat with Fingers (innovative veggie and vegan cuisine with a menu packed with organic, raw and vegan choices) are all must do's!
Mont Choisy & Anse La Raie
Grand Baie is by no means the only place to be in the North. Sure, it has the appeal and attractions of modern lifestyle, but life in the north of the island has so much more to offer. Mont Choisy, which is located 15 minutes away from St. Antoine – Private Residence, is a seaside town where you'll find the longest beach in Mauritius. Stretching over 3 kilometres, Mont Choisy beach is an exceptional spot for gentle strolls, games with frisbees and balls for the more energetic, or snorkeling in the accessible shallows. Golfers will be pleased to know that the only golf course in the North is the 18-hole course at Mont Choisy. If you're a kitesurf enthusiast, Anse La Raie beach is the ideal spot to engage in your favourite water sport, thanks to its shallow lagoons and steady trade winds. Located near the village of Calodyne in the North, Anse La Raie is also great for snorkeling. As with practically all the public beaches in Mauritius, there are standard facilities such as beach huts, a forested picnic area, and clean restrooms.
Goodlands
If you wish to immerse yourself in the rural life and culture of Mauritius, a visit to Goodlands is a must. A mere 10 minutes drive from St. Antoine – Private Residence, this village has a variety of local amenities including a bus station, snack shops, typical Mauritian restaurants, cinemas, supermarkets and even a small casino. Goodlands is perfect for excursions with family and friends for a taste of life in a typical small, rural town.
Other fun activities, and places to visit
For chocolate lovers who enjoy indulging their sweet tooth, a visit to the Van Ann Chocolaterie in Calebasses should definitely be on the itinerary. Established by a Belgian expatriate in 1992, and famous for its pralines, Van Ann is a fixture in the chocolate industry of Mauritius. Be warned though, you may find it hard to stop at sampling just a few of their delectable chocolates! But not to worry, to walk off all the chocolate you may have consumed, we suggest a visit to the Sir Seewoosagur Ramgoolam Botanical Garden in Pamplemousses. Filled with indigenous and tropical plant species, Pamplemousses Botanical Garden is a living and breathing monument. Visited by botanists from all over the globe, this park has spectacular flora which includes giant Victoria Amazonica water lilies and numerous species of palm trees. You can also see the Talipot tree there, which blooms only once every fifty to seventy years.
Other places you may consider visiting in the North include:
Domaine de Labourdonnais in Mapou – a magnificent, privately-owned estate, founded in 1774, and set in the midst of beautiful sugar cane fields and fruit orchards. The original Chateau de Labourdonnais has been converted into a museum, and today the Estate includes La Table du Chateau for contemporary fine dining; La Terrasse, a small café; La Corbeille, a delicatessen; as well as a nursery offering a wide variety of fruit trees and decorative plants. Hop aboard the Labourdonnais Express for a 45-minute guided tour of the Estate's gardens and orchards!
The Red Roof Chapel in Cap Malheureux – for pure architectural beauty just steps from the sea. Officially named the Notre Dame Auxiliatrice Chapel, this Roman Catholic Church was built in 1938 and is situated at the very northern point of Mauritius, offering breathtaking views of the five northern islets, including Coin de Mire (Gunner's Quoin). This is where the British colonists first landed before laying claim to the island in 1810, and it is arguably the most photogenic spot on Mauritius due to the way that the bright red roof contrasts with the turquoise waters and deep blue sky that surrounds it.
The Paul & Virginie Monument in Poudre d'Or – for its poignant history. The most famous story in Mauritius folklore, 'Paul et Virginie' was inspired by the shipwreck of the St Géran, which came to a watery end just off the north-east coast at Poudre d'Or.
As you can see, there is an abundance of activities and things to see in the North – those mentioned here are just an introduction, and we're sure you'll enjoy discovering the many more fun, interesting things to do in the area. Share your experiences with us in the comments section!
The apartments and penthouses of St. Antoine – Private Residence have taken solid root on the exclusive coast of Saint Antoine, in eastern Mauritius. As you can see in the pictures above, the apartments have reached their final structural stages, and the penthouses which comprise the top floors of the apartment buildings are currently under construction. The development of the site is being undertaken with the utmost respect for this area's abundant and pristine natural life. Subscribe to our YouTube channel to see the evolution of the project; there you will find video updates charting the steady progress made since December 2018.
St. Antoine – Private Residence will have a Reception area and a main Clubhouse. Groundwork on these buildings began in March this year, and they are currently in their final stages of completion. The Reception area will be home to the concierge team which will be available to attend to your requirements 24 hours a day. The main Clubhouse will house a restaurant/deli, and a pool area, including a 50m communal pool where children and adults alike can enjoy cooling off and having fun. As you can see in the latest video update, the foundations and ground preparations for the pool are well under way.
Phase II offers – only 2 units left!
There are presently only 2 units left for sale in Phase II, so it's definitely time for you to get in touch with our team if you wish to acquire one of these prime pieces of property. Included in this latter phase are apartments, penthouses and villas. The area to be developed in Phase II will have its own Clubhouse and a range of amenities which will be shared with you very soon. What we can tell you is that the villas have been designed as enclaves of the utmost privacy located on the verge of the seaside.
Grand Baie is a mere 15-minute drive away from St. Antoine – Private Residence. Iconic for its authentic Mauritian restaurants, market, street food and shopping malls, this area is favoured by expatriates and Mauritians alike. The seaside village has beach pubs and restaurants such as the Banana Bar, Cocoloko, and Beach House which are ideal places to enjoy drinks and foods with friends & family. The beauty of living at St. Antoine – Private Residence is that you will have convenient access to Grand Baie and its surrounding areas. This gives you the possibility to combine serene living by the seaside with the more dynamic activities of modern life. The two most popular beaches of Grand Baie are La Cuvette and Grand Baie Public Beach. La Cuvette is small and cosy, and can be an ideal spot for some quiet time with friends. As for the public beach, it is usually well animated, and bordered by juice stalls, beach restaurants and the likes.
The most prestigious malls of Grand Baie
Grand Baie is also home to the oldest shopping mall in Mauritius, the iconic Sunset Boulevard, which is home to a range of local and international shops. This place is perfect for those who wish to revel in a seaside setting while shopping. If you're more of an urban-style shopper, but still wish to enjoy the warm climate of Grand Baie, the place to be is La Croisette. Arguably the best mall in the North, La Croisette has a varied selection of shops, hypermarkets, a cinema, and a vast esplanade with an abundance of restaurants and cafés. Attached to this mall is the state-of-the-art Fortis Darné Clinic, which provides world-class medicare.
What about schooling in the North of Mauritius?
Parents will definitely want to know about the schooling system in Mauritius, and also whether there are any good schools in the North. The most popular choices for primary schooling in this region of the island are the International Preparatory School (IPS) in Mapou, Lighthouse School in Trou aux Biches, and Green Coast in Beau Plan. These institutions are all situated at a 20-minute drive from St. Antoine – Private Residence. For secondary schooling, Northfields International School (NIS) in Mapou and Lighthouse School are great options.
Grand Baie: good for business!
Business people will find that Grand Baie is quite full of networking opportunities. A great example of these is the regular netWORKing event. Held at The Beach House, regular netWORKing is a great place to meet like-minded business people and future potential associates. The emergence of facilities such as the Grand Baie Business Park and the Grand Baie Business Quarter (GBBQ) also means that you have your company's office in the area if you wish.
St. Antoine resident, welcome to your little heaven
Walk into a secure private residential commune, receive a warm welcome at the reception, have the conciergerie team take care of your belongings or any other request you may have… Imagine being received as such before stepping into your apartment, penthouse or villa. The project will also include a Wellness area where residents can enjoy massages, beauty treatments, and a variety of other spa services. St. Antoine – Private Residence will elevate your lifestyle with these carefully crafted luxuries. Feel at home, pampered and secure amidst the exceptional scenery of this pristine region of the north-east of Mauritius.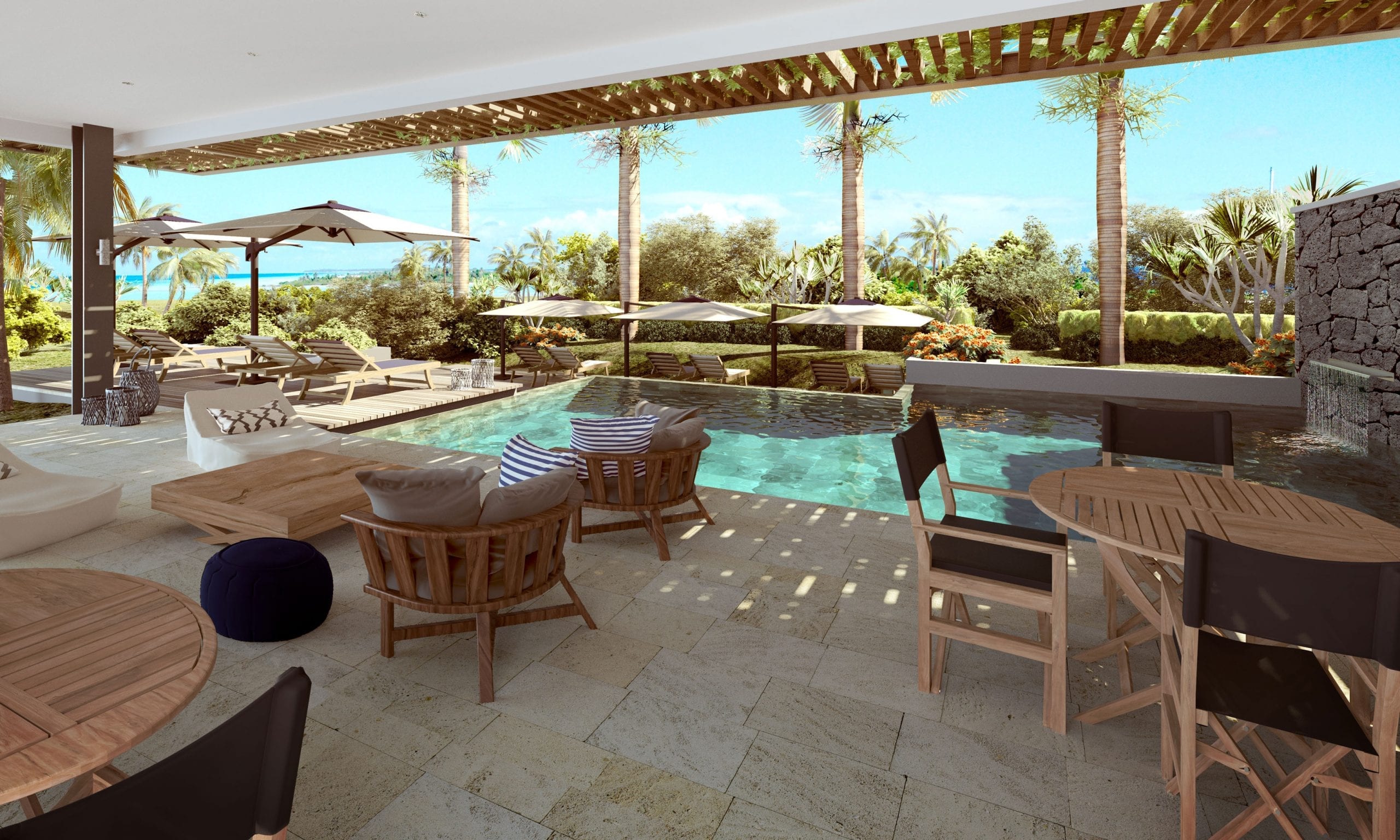 Our Clubhouse area is the perfect spot to fully unwind, be it from a long day at work, or from that long flight you just got off. The Clubhouse, an ideal place for socialising, will have a bar where you can enjoy
a refreshing cocktail and a chat with friends, family or neighbours. The Clubhouse restaurant will also be a good place to indulge in a romantic dinner with your partner, or to wine & dine with friends and business associates. This area will have a sizeable communal pool, which residents can use for leisurely swims or for engaging workouts – swimming is after all one of the most lauded forms of cardiovascular exercise. There will also be a Children's Pool, where the little ones can enjoy a safe dip or some good-natured poolside fun with their buddies. And of course, no pool area would be complete without its deck. This space will delight those who want to have some down time in the sun with a cocktail while basking in soft sea breezes. The pool deck will have tanning chairs, in order to help you maintain your picture-perfect golden tan. Daily life in a resort setting is a dream that can become reality at St. Antoine – Private Residence.
Boat owners, we've got you covered!
A boatyard with its ancillary services are also part of the St. Antoine – Private Residence experience. Fire up the boat engine and head for the open sea for a big catch, or gently cruise around and relax in the lagoon of St. Antoine… these possibilities are fully within the grasp of our residents. The project's boat parking space will be designed to safely accommodate your vessel.
The playground of your dreams
Our principal aim is to provide residents with a space that enables them to develop and enact their personal Art of Living. Add all these Resort-style services to a backdrop of architectural modernity and authentic landscape, and you get a truly unique residential community in an exclusive region of Mauritius: your very own playground. Evidently, all the services are available to you whether you wish to use your property at St. Antoine – Private Residence as a primary or secondary home.